DASHBOARD INDICATOR LIGHT GUIDE
Your BMW communicates with you from the dashboard warning lights or dashboard symbols. Please note; the BMW dashboard lights below may differ in appearance between models.


As a general rule, the color of the illuminated symbol illustrates the severity of the issue.
Red: once illuminated indicates an issue that requires immediate attention.
Orange: will typically indicate a less urgent issue, for example a vehicle service required.
Other symbol colors such as blue and green provide the driver with information such as lights and indicators.
Flashing warning lights inform the driver of an urgent issue.
BMW dashboard warning lights should not be taken lightly. It's important to familiarize yourself with this guide. Contact your advisor at the BMW of Middleburg Heights Service Department with any questions or concerns.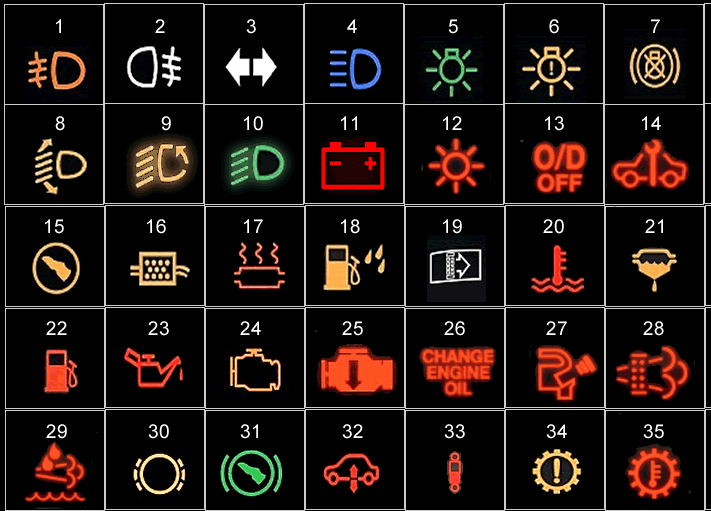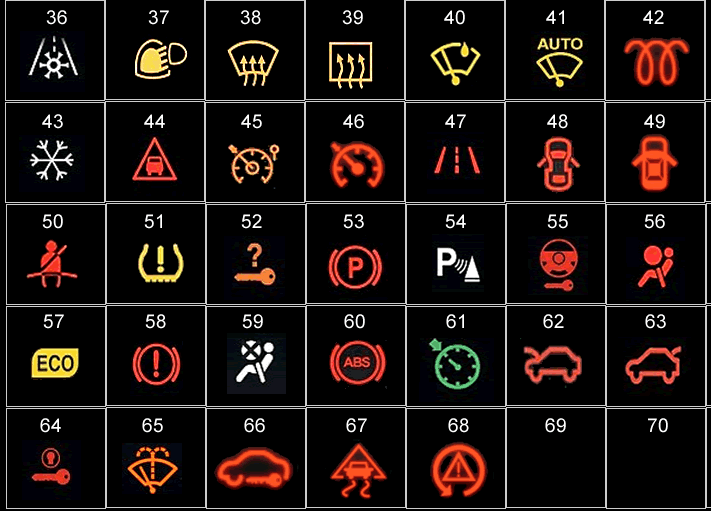 BMW Headlight Warning Lights
1. Front fog lamp is on.
2. Rear fog lamp is on.
3. Indicates that the signal is on. When you lower the signal arm, the left turn indicates the saga turn when you lift it up.
4. Long-distance headlights are on.
5. Indicates that the short headlamps and stop lights are on.
6. Indicates that any of the parking, brake, rear fog, signal, interior lighting or license plate lamps are faulty.
7. Outer brake lamp indicates that the bulb is faulty.
8. Malfunction of the headlight control system.
9. Adaptive light system warning.
10. Short headlights are on
11. Battery charge warning light - there is a dead battery, a battery fault, a charging dynamo (alternator) malfunction. No charge of the battery. If the battery lamp is on while the engine is running, contact BMW of Middleburg Heights.
12. Fault with exterior lamp.
13. O/D OFF warning light. Drive system is off. Vehicle's overdrive system is turned off manually. The overdrive system is controlled by a switch.
14. Electrical error controlled by body control module. Inspect interior and exterior lights. Simultaneously, traction control or communication problem between modules.
BMW Engine Warning Lights
15. Press the brake pedal so that the engine starts.
16. Diesel Particulate Filter (DPF): diesel particulate filter is filled with excess air.
17. Catalytic Convertor Warning Light: Warning lamp that catalyst system is faulty.
18. Water level in the fuel filter has increased.
19. Engine air filter needs replaced.
20. Engine Temperature Warning Light: The engine coolant is overheated. Engine is overheated. Stop and wait for engine to cool when flashing.
21. Vehicle engine fuel filter needs replaced.
22. Fuel has decreased.
23. Oil Pressure: Engine oil pressure has dropped. Stop the car immediately, check oil level, and add oil until it reaches the proper level. Schedule service.
24. Check Engine (MIL): appears when the car is started for the first time. BMW needs to be taken to service. If blinking, drive cautiously
25. Decrease in engine power. Computer that controls the engine has limited engine power output. Bring to service to be diagnosed properly.
26. Engine Oil warning. Indicates that the engine oil life is full - bring to service for oil change.
27. Gas gauge indicates that the gas gauge is not properly tightened. the Check Engine Light could appear.
28. DPF Light (Diesel particulate filter warning symbol for diesel vehicles): Diesel exhaust particulate filter test has failed and the service has to be visible.
29. DEF Light (for diesel vehicles): diesel exhaust fluid level is low.
BMW Warning Lights for Mechanical Components
30. Brake pads are worn. Also, Brake pad is replaced and the brake lining sensor is not changed (only for vehicles with brake lining sensor)
31. Warning: Press the brake pedal to operate the automatic shift lever.
32. Air suspension warning.
33. Suspension system errors.
34. Transmission fault: If there is a problem with the automatic transmission, this warning light is lit in yellow or red on the instrument panel. If the emergency warning lamp is illuminated when the emergency warning lamp ON, carefully drive the vehicle in the P, R, N, D (forward gears only 3rd and 5th gears) works. It is recommended that you drive your car at low speed and schedule service.
35. Gearbox is operating at an improper temperature. Check the gearbox oil level and engine coolant level. Wait for 5 minutes to cool at idle while the vehicle is in gearshift N.
BMW Warning Lights about Weather Conditions
36. Indicates weather outside.
37. Light and rain sensor which calculates the reflection and reflection of the light during the rain and informs the control unit.
38. Defrost function of the windshield is active, this car will show the warning light.
39. Warning light in your car appears when the defogger on the rear window is active.
40. Warning lamp lights up when the rain sensor is active.
41. Warning light is on, it is an automatic glass wiper act.
42. Warning lamp indicating heating bulbs. (For diesel vehicles)
In diesel vehicles, this light indicates that the engine glow plugs have warmed up and that the engine should not be run until this light is turned off. If the heating boiler malfunctions, white smoke may emerge from the exhaust as long as the engine is operating at the proper temperature. This means that the heating bulbs must be replaced.
43. Winter mode button you need to use on snowy and slippery roads.
BMW Warning Lights For Safety Driving
44. Vehicle warning symbol, Track distance warning sign.
45. Warning that the speed limit has been exceeded (for vehicles with speed limit)
46. Cruise control: Indicates that the drive control is set during driving.
47. Warning symbol appears if you change the lane without giving a signal.
48. Vehicle warning light telling that any one of the doors is open.
49. Warning that a door (including the bonnet and luggage) is not closed. Open and close all doors including the baggage and baggage. If the car is left overnight in this case, it may drain the flow.
50. Warning lamp, which means that the seat belt is not attached.
51. Tire pressure in your car is low or there is a problem in the system.
52. Warning lamp means the key is not in the car. At the same time, the key also means that the chip is not identifiable (see CCNZ: Immobilizer malfunction).
53. When the gear is brought to Park. (in automatic vehicles), it is recommended that you take the gear to position Neutral, pull the handbrake, then switch to Park to load the transmission.
54. Parking assistance system signs with vehicle dashboard.
55. Steering lock warning. If it is yellow, bring it to the service, but if it is red, do not use it.
56. Airbag and seat belt system defective.
57. ECO indicator showing you are driving economically.
58. Warning on the instrument display panel normally illuminates when you take the hand brake. If the brake fluid is continuously visible, there may be a problem with the brake system. In this case, check the brake fluid. However, this can take you as far as the service. If the fluid is missing, your brake pads have completed their life cycle or there is a leak in the system.
59. Warning symbol appears if the airbag system is off.
60.
ABS warning. 
If ignition does not come on when the ignition switch is ON position, it is defective, if it does not go ON after burning and when driving, drive carefully, drive at medium speed and avoid braking abruptly.
61. Warning light appears if the cruise control is on.
62. Engine hood is open.
63. Luggage compartment is open.
64. Fault in the start system of the car.
65. Washer fluid running low.
66. Symbol flashing, ignition key is locked and requires a key equipped with the appropriate transponder to restart. If visible when the vehicle is on, indicates a fault.
67. Traction Control or ESP: Illuminates when the car is in traction control/anti-slip or electronic stability system in use. Indicates the conditions are slippery.
68. Traction Control or ESP malfunction: Indicates a problem with the vehicle traction control/anti-skid or electronic stability system.

Original source: https://carwarninglights.net/cars/bmw-dashboard-warning-lights-meaning/
Remember, if the BMW dashboard symbols are orange or green, schedule a service appointment at your earliest convenience. If any of the lights are red and/or blinking, consider stopping everything and take your car to the nearest BMW Service Department.
If you are unsure about the meaning of a BMW service or warning light, See your BMW manual or please call our Service Department at 888-840-1839. Nothing is more important than your safety.